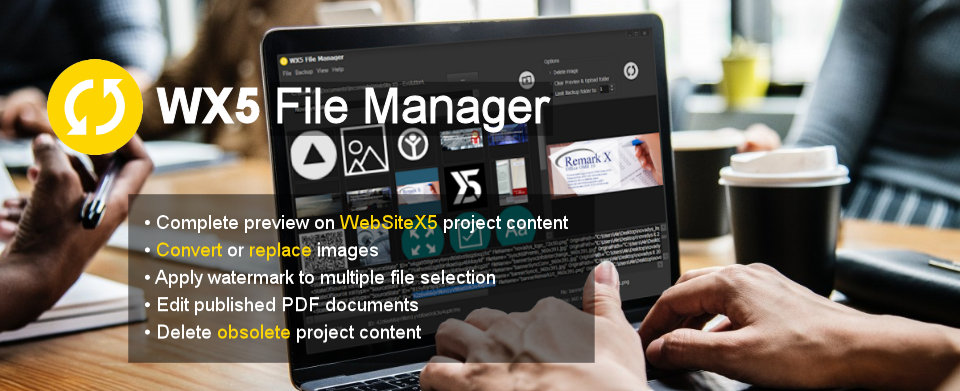 WX5 File Manager
The image converter and PDF Editor for Incomedia WebSiteX5
Central image management

For each of your WebSiteX5 projects,
WX5 File Manager
shows you previews and library information of all supported image and video files stored in the project. This allows you to centrally
extract
the original files,
convert
the preview to another graphic format or
replace
them with another image of the same size and format.
Single frame images in BMP, JPG and PNG format can be
rotated
and
flipped
.
Central PDF management

WX5 File Manager
filters and lists up separately all PDF documents contained in the WebSiteX5 project. Open the PDF Editor with a double click to easily and rapidly
modify
its page composition and
update
or
replace
the document.
Project optimisation

Use
WX5 File Manager
to
optimise
your WebSiteX5 project by removing obsolete files stored in WebSiteX5. Just by limiting the number of backups automatically created by WebSiteX5, you can reduce the project's disk space up to 90%.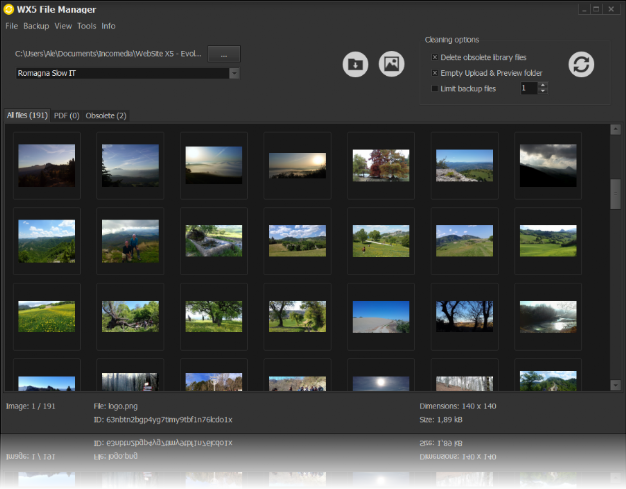 Application
Architecture: 64 bit




License: perpetual
User interface
English, French, Italian, German



Supported formats for file preview

Image: BMP, GIF, ICO, JPG, PNG, TIF




Document: PDF




Video: AVI, MOV, MP4, MPG, OGG, WEBM, WMV



Supported formats for image conversion

BMP, DCM, DCX, DDS, EPS, GIF, ICO, IEN, JP2, JPC, JPG, PCX, PDF, PNG, PSD, PXM, SVG, TGA, TIF, WBMP, WDP



System requirements

Windows 7/8/10/11




WebSiteX5 Pro/Evolution 2019 projects or newer



Main functions
Preview of image, PDF and video files stored in the pro-ject

Extraction of original files

Image conversion

Image rotation and flipping
One clic replacement of images with multiple links

PDF Editor


Editing of stored PDF files (add, delete, repo-sition pages)
Export of modified PDF document
Replacement of PDF files

List up of obsolete project files

Project optimisation


Delete obsolete image, PDF and video files from the project
Clear Upload & Preview folder
Limit WebSiteX5 backup quantity